It's a strange feeling when you get to a destination that seems perfect for backpackers and there are none of them there. After a few days in Cuetzalan, a Pueblo Magico in the northern part of Puebla state in Mexico, I had the rare feeling I'd gotten somewhere before the crowds, that I've discovered that elusive place that really deserves the over-used cliches like "hidden gem." Cuetzalan is no secret to Mexican tourists, but it sure seems to be with foreign ones.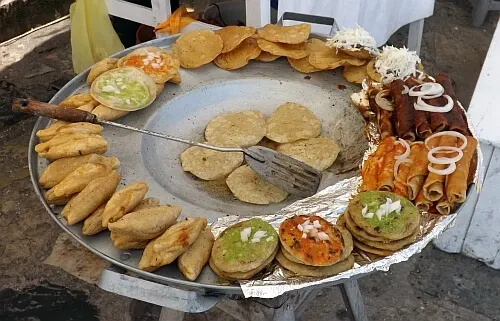 There are certain items that typically make a town a magnet for budget travelers. Cheap street food, cheap booze (or drugs), budget lodging, easy navigation on foot, nice scenery, fun excursions to take, and a feeling you're somewhere exotic. The list could be expanded, but these elements were in place in the 1960s (Kathmandu, Bangkok, Istanbul), the 90s (Pokhara, Chiang Mai, Hampi, Manali, Yogyakarta, Ubud, Luang Prabang, Prague), and today (Sucre, San Juan del Sur, Antigua, Hoi An, Veliko Turnovo, Eger, the islands off Cambodia).
There's a natural progression in the above examples: cities get bigger and more populated and become a quick stop rather than a hangout place. Prices go up and moneyed tourists move in, thus the backpackers go in search of lesser-known, mellower spots to chill for a while. Or when too many of the wrong kind descend on a place, the townspeople either go upscale (Prague) or revolt (Vang Vieng).
Cuetzalan
was one of the original 10 Pueblos Magicos—magical towns—designated in 2000 as special places to be preserved in Mexico. Over the years the designation has gotten a bit diluted as more and more questionable ones are added. This gets them a little preservation and development money though and puts them on the tourist map. Well, for Mexicans anyway. Since most of these towns are in the interior away from the beaches, most of them don't see a lot of foreigners.
Exploring Cuetzalan in Mexico
This one is a special place, a historic town perched on a mountainside, with panoramic views when the sky is clear and clouds moving in and out of the hills at other times. This is a wet, lush area at around 1,000 feet elevation, so nearly everything is made of stone to withstand the humidity. Narrow flagstone streets are between buildings made of rock hauled from quarries on mules. Until the mid-1900s there was no road up here and the one coming from Puebla City is in a constant state of repair the last 40 miles or so. In the middle of rainy season, it's not uncommon for it to get washed out and closed for a few days. Don't come here on a tight schedule from June through November.
As for those cheap prices, by Mexican standards Cuetzalan is a serious bargain. It's not Nicaragua, but you can completely stuff yourself on street food for a few bucks. At one stall the three of us bought 11 items—empanadas, tamales, tlayoyos (stuffed corn patties) and it was the equivalent of $2.12. I saw two taco stands advertising beef tacos for the equivalent of 6 for $1. Even the nicest restaurants have $2 beers and $7 main dishes. Crops are abundant in this fertile area with varied elevations, so you can buy berries, mangoes, plums, carrots, or whatever else is in season for a buck or two a kilo direct from the people who brought their bounty to town.
The farmers make their own fruit liqueurs in this area and you can order a flight of them at a bar right on the town square for 10 pesos each (about 77 cents) to see which ones you like best. (For me it was vanilla and passion fruit). Then you can buy a whole bottle if you want for $5.
Finding a Place to Stay in Cuetzalán
Lodging is a decent deal at the low end here, a terrific bargain in the middle to high range. This Hotel Posada Cuetzalan pictured below has three nice courtyards, a pool, and double rooms for $70 per night or less with taxes and a big breakfast. Another we stayed at has doubles for $36. The best place in town (Casa Piedra) starts at $56 a night.
I don't think there are any hostels in the town: the only one listed for the area is $14 a night with tax and breakfast and it's out by the ruins mentioned below, 10km from town. It's run by a local indigenous community that cooks pre-Hispanic food. Two or three of you can get a real hotel room though for $15 or less at the low end by just looking around and making a deal. Note that if you're looking up lodging online, sometimes this city is listed as Cuetzalán del Progreso. Check deals on hotels here.

What to See and Do in the Area
There is a good museum in town that's free, some churches and other sites, plus a good range of interesting places to visit outside of town. It takes some patience and a willingness to cram into a truckbed bus to reach them on your own, but it can be done for a few dollars. Otherwise you can book a tour with an agency like Cuetzalan Magico and you'll have good transportation and a guide.
This helps in reaching some of the far-flung waterfalls, of which there are plenty in this wet, mountainous region. We splashed around and swam in two of them, but our guide who grew up here said he had been to around 25 waterfalls so far. Ask locally about conditions before setting out though: a nice swimming hole in April can be a thunderous death trap in July. If there's an admission charge, it'll be 80 cents ore less. This being Mexico, you'll have no trouble finding a beer or a snack.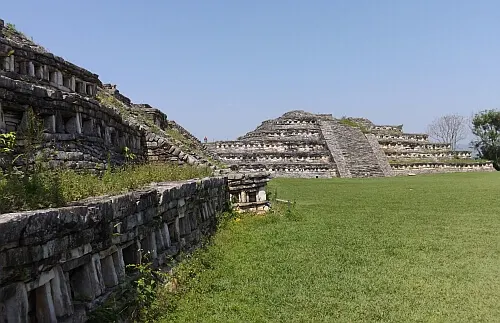 Admission to the Yohualichan archaeological site pictured above is less than $3 (reduced with a student ID). It's kind of neat to explore a set of ruins like this, dating back further than famous Chichen Itza in Yucatan state. They haven't been prettied up, shored up, and reconstructed with lots of cement. They kind of look like sagging cakes, with dirt and vegetation still on them. There were only five other people checking them out the whole time we were there.
The Xoxoctic Botanical Garden with a butterfly enclosure is only a few bucks—or free for guests of Hotel Encuentro (same owner). What's on display will vary depending on the season, but quite a few exotic orchids were in bloom when we explored the place.
For a tour of the Corales Caverns, it's around $4 including a helmet and a guide with a flashlight—there are no lights inside.
Getting here takes some effort, as in 4-6 hours on a bus from Puebla City depending on whether there's road work going on. (We splurged for a rental car, at about $35 a day with some insurance and $12 each way in tolls.) You're going to want to stay a while after you arrive. Cuetzalan isn't really on the way to anywhere, but you can continue north to Veracruz state for adventure activities and some Gulf beach time.
For more info, see the Cuetzalan Magico website (in Spanish only for now) or the Mexico Tourism site in English. To look for hotels, the best site is HotelesEnCuetzalan.com. You can also try Booking.com for Cuetzalán del Progreso.