Popping Around Puebla, Mexico
Puebla is Mexico's 4th-largest city, but it only gets a trickle of even the non-beach tourists visiting Mexico.
Those that do pass through are usually on some kind of culinary tour. This is, after all, the land of mole poblano—that luscious and rich chocolate-tinged sauce that goes great over chicken or enchiladas.
I'm doing one of those ephemeral, photo-heavy posts on this city because it's a real visual treat and I'm still traveling in the state of Puebla right now. One of the most interesting aspects of this city though is the architecture, with impressive, grand colonial structures from several centuries stretching out a couple dozen blocks in multiple directions. This is not some tiny little colonial center. I wore myself out walking around just part of it one day and needed a nap. Thankfully I was here for a few days to really scope it out.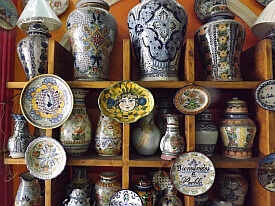 It's especially interesting to check out all the talavera tiles adorning the buildings. That's the city's other claim to fame and one with more permanence: this is the land of top Mexican pottery. Tiles and sinks, plates and cups, whole dish sets if you want. There are cheaper, factory-made versions of this stuff, but if you want the real deal to treasure for a lifetime, you get it here.
You can go for schlock or quality in one area, with the main artisan market having 40 or 50 stalls and then the streets surrounding it having shops where you can buy one-off quality items or a whole dining room serving set for 12. (The latter will cost you $800 to $1,200 depending on design. They take credit cards…)
I was here with my wife and daughter, so we spent a lot of time eating. You can get a good sit-down restaurant meal for $10 or less all over the city, including drinks, and we sampled a variety of different moles, including a green one made with pumpkin seeds and a pinkish one made with sesame seeds.
If you're on a budget, go for a cemita, which is basically a torta sandwich stuffed with lots of ingredients, including avocado, in a circular hanburger-type bun. It' $3 or less. The other option is chalupas, which are basically soft tostadas: lightly fried small tortillas with red or green salsa, shredded beef, and cheese. They're less than $1 each and are available at street stands all over the city.
We visited a bunch of museums in Puebla and the highest admission charge was 35 pesos—less than $3. Sightseeing won't set you back much here. The Amparo Museum is one of the most eclectic I've ever been in anywhere: modern art in a room next to religious art, which leads to one with pre-Colombian artifacts, then a temporary exhibition area which in our case was a local photo journalist who was famous in the 1930s and 40s. Terrific views from the cafe on the top floor. All of the churches are free to enter, including the stunning main cathedral flanking the central plaza. This view below is a different one though: from our hotel.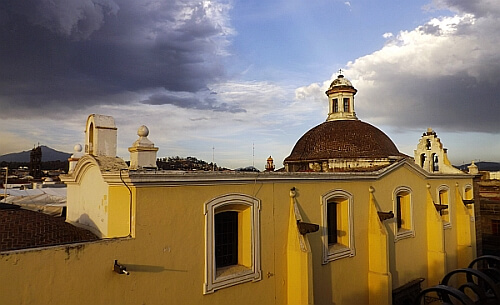 "Enough with the buildings, food, and museums, what can I do at night?" you may be thinking. Well, this is a big city with universities, so there's plenty of culture and a good range of bars. This is kind of an odd city though in the sense that the historic center is almost all commercial. Hardly anyone seems to actually live there, so the streets can get surprisingly quiet at night.
If you're here on a Monday though, fork over 70-150 pesos and get your tickets to…lucha libre! Mexican wrestling matches are just as fake as the WWE ones, but with better costumes. And lots of vendors passing through so you never have to leave your seat to get a beer or buy some food. We have lots of photos from this wild night, but most of them share one characteristic with the one below: there's a net in the way. Only with the most expensive ringside seats ($12) do you can an unobstructed view. That's because these matches can get heated and things can go flying all over the place. The audience has plenty of projectiles at their disposal from all those vendor items and the wrestlers are baiting them on. The performers are also launching themselves out of the ring on a regular basis. It's all silly, but good fun.
I won't pretend to be any kind of expert on Puebla as I was only there for a few days. This All About Puebla blog is a better bet for that. Lots of terrific advice on there. But I liked it a lot and would definitely go back. It's at 7,000 feet, so it only gets hot for a few hours in the afternoon. It's easy to get to from Mexico Cit or Oaxaca by bus. It took us seven hours from Guanajuato, at about $54 each one-way on a first class bus for the adult fares.