If you're going to ride a yacht or transport cargo through the Panama Canal, be ready to pony up some serious cash. The cost to go through the Panama Canal equates to a big stack of cash.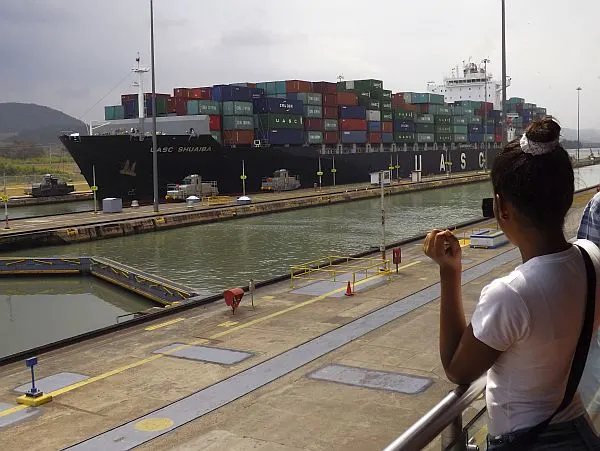 When I first put up this post I had just handed in a magazine story on Panama and was going through my notes from the trip. I visited the Panama Canal for the second time. The first time I actually went through it on a 14-person ship, while the second time I just went to the Miraflores Locks visitor center.
I made a third trip to the Panama Canal in 2018, but the prices for the transit have changed so many times we updated this post again in 2023. You find out lots of factoids when visiting the canal, but I'm most fascinated by the commerce side of it. Obviously it's easier for a shipping company to go through here than to spend an additional 22 days sailing around the bottom of South America, so they're willing to pay. A lot.
There are different fees for different ships and cargo, as in you'll pay less to transport grain than you will to transport liquified natural gas, then a different fee structure applies if you load Fitbits into cargo containers.
You can sort through the tariffs online, but from what I can tell, according to the latest tolls proposed by the Panama Canal Authority in April 2022, container ships will now pay $60,000 to $300,000 depending on their size, and then additional fees based on the number of containers the ships are carrying.
Then in a system that seems like it was copied from U.S. airlines, there are lots of extra fees on top of that. A captain has to actually turn over the bridge to a Panamanian lock pilot for the transit and there are robotic guides with cables leading the ships through tight spaces.
When they exit the other side of the Panama Canal, that transit alone will have added 1/3 of a $million to the cost of the goods on the ship. So if you're in Boston getting coffee from Sumatra or a car from Korea, keep this in mind when you look at the price. Many people believe that goods they get from Asia travel by land across the USA, which some goods do on trains or buses.
But more often, containers that travel across or up the Pacific come through the Canal to reach East Coast ports if the items are bound for New York, DC, or Florida, for example. It's faster and, in the end, less expensive. That includes wine from Chile and chocolate from Ecuador.
That charge above is chump change though compared to some recent larger vessels hosted by the wider canal. That wider section of the canal was a massive project that now allows full container ships through. This engineering feat cost billions and billions to pull off, so you can bet those ships making use of it are paying handsomely. Before the expansion, the record was $461,000 paid by one ship. Then the record jumped to $1.1 million. No wonder this canal supplies 12% of Panama's gross domestic product.
In 2023 a new record was set because the country experienced a period of low rainfall and ships were stacked up waiting for entry to the canal. One liquified natural gas company paid $2.4 million to skip to the front of the line, bringing their total charge up close to $3 million.
Speaking of prices, you'll pay a surcharge if you go on a cruise ship through the Panama Canal. Starting in February 2022, the Panama Canal Authority changed the way they charge Cruise ships from per berth to per ton. For the first 10,000 tons it costs a Cruise ship $5.25 a ton or a whopping $52,500 to go through the canal. The per-ton price goes down just slightly for each additional 10,000 tons that a ship is carrying. Enjoy the ride that day—you've paid handsomely for it.
Check the current conditions before booking a cruise though: as mentioned before, low water levels in 2023 were causing long back-ups for ships to get through so some pleasure cruises had to turn back or change their route.
Sailing a Pleasure Boat or Yacht Through the Panama Canal
So what about the poor soul trying to live a lifelong dream of sailing around the world?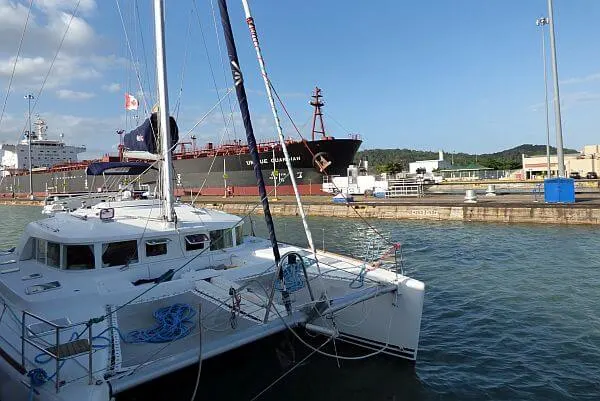 It's definitely better to go small than to look like a new money tech tycoon. If you look at the official toll prices here and scroll way down, small ships pay a $1,600 to $4,100 toll at the canal depending on length. But, just like with container ships, there are additional charges tacked on that make this journey pretty hard on the pocketbook.
Boats under 65 feet pay a $1,600 toll, From 65 feet up to 80 feet $2,400, More than 80 feet up to 100 feet $3,500, 100 feet is $4,100, with all these small vessels also paying a $165 security deposit as well.
The cost for reserving your slot to go through the canal is $10,500 for ships less than 91 feet long and the fee jumps to $40,000 and $50,000 for ships bigger than 107 feet long. If you decide you want to stick around, mortgage and anchorage fees start at $75 a day for the first 30 days. There is also a $75 inspection for all small vessels, regardless of size.
You'll also need the right lines for tie-up and a big enough crew to secure them all. No, you can't use a credit card. (Or cocaine. Supposedly someone tried that once.) You can send it all by wire transfer now though and if you're short, have some $100 bills on you for the unexpected.
If you'd like to just see a bit of the (slow) action instead, entrance to the Miraflores Locks complex is $10 for adults, less for kids and seniors. More info here. The museum has gotten better over the years though and there's a restaurant and bar on site. If you're a Panama resident, you only pay $3. That includes entrance to the museum and a guide explaining how everything works at regular intervals outside.
The place must be raking in money because when I last toured Panama on an Uncruise trip there were hundreds of people streaming in and out at all times. Later when we passed in a ship there was still no space along the observation deck railings for the people looking out at us.
Keep in mind these rates go up every few years, so check the latest before you pull up to the canal opening in your own boat so you don't come up short on funds.
If you ask me, a couple days in Panama City is plenty and there are far more interesting places to go within a few hours. So have some fun here then get out into the countryside or to the beaches. See the Visit Panama site for ideas and gorgeous photos.
If you decide you like this country enough to consider it as a place to live or retire, there are a lot of good incentives in place and it's a relatively straightforward and fast country for getting residency as a foreigner. See lots of details in this post:The Cost of Living in Panama for Expats.
Keep up with what's new on this blog by receiving new post updates by e-mail. Or if you're interested in moving abroad, get on the Cheap Living Abroad Insiders list.
Pin it!