As I wrote a few posts back in the midst of a return to Turkey, this country is not a cheap destination anymore. It's in my book still as an honorable mention because it's a fair value for mid-range travelers, but it will probably disappear from that category too next time around. Overall, prices are ticking closer and closer to those in Western Europe and with their economy booming (while Europe's languishes), there's little chance this trend will reverse.
Minimum wage is only about $500 a month and pensions aren't much higher, but there are plenty in the sizable middle class making a few thousand more than that each month. Taxes are not outrageous, but fuel costs are, so transportation is no bargain. The conservative government loves sin taxes, to the point that 2/3 of what you spend on booze or beer does not go to the manufacturer or retailer. Even once-cheap raki, the national drink of choice, is pricey. Real estate prices are rising rapidly, which affects store rentals and hotel costs.
Turkey is an amazing destination though, so it still feels like a special experience worth paying for, even if you are sharing that experience with more and more people each year. The cruise ship traffic is up 108 percent year over year, for instance, which nearly always has a negative effect on both prices and crowds. Most of that traffic is in Istanbul, with perhaps a stop off to check out Ephesus, so in this big country it's not hard to get away from the crowds. Hotel costs are especially high in Istanbul, where 50 100+ room hotels are under construction or about to break ground.
I was just in Istanbul and Ankara on this last trip, so prices here are based on what you find in the two biggest cities. You can expect many of them to go down as you get into the countryside. All prices have been converted into U.S. dollars at the rate of 1.7 Turkish Lira per $.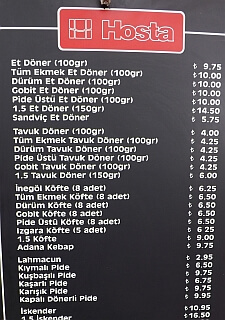 Food & Drink Prices in Turkey
In-season fruits & vegetables at markets: $1.30 – $2 per kilo
Simit (kind of like a sesame bagel with a bigger hole) – 60 cents
5 small pastries from a simit dealer: $1
Large baguette: 60 cents
200 grams of baklava: – $2 – $3.50
Doner kebab sandwich: $2.50 – $5
Cigar kofte (ground lamb) – $1 per stick
Glass of strong tea – $1 – $1.30
Cappuccino – $2 – $3.50
Bottle of Turkish wine in a store: $5.50 to $15 for most, but some up to $35.
Liter bottle of raki in a store: $25 and up
Large Efes beer in a store/bar: $2-$2.50 / $4-$6
100 grams of peanuts or hazelnuts – 80 cents
100 grams of shelled pistachios – $1.50
Meal in a basic Turkish restaurant – $6 – $10
Meal in a fancy Turkish restaurant – about what you pay in the U.S., NYC prices at gourmet/hotel ones
Kilo of tea – $8
Ice cream novelty: 50 cents to $1.40
Hotel & Hostel Prices
Dorm room bed in a hostel: $22 – $35
Basic double room with bath – $45 – $70
3/4- star hotel on Hotwire: $95 – $165
Transportation Costs in Turkey
Taxi from airport to Istanbul center: $24 – $29
Airport bus to Taksim: $6.50
Metro/tram combo from airport: $2 – $3
Metro/tram local fare: $1.20 per trip (with Istanbulkart)
Istanbul ferry ride: 80 cents – $1.50
Ankara city bus ride: $1
Taxi ride in Ankara: $2 – $18
Long-distance bus ride: around $3 per hour of travel
Istanbul to Cappadocia by overnight bus: $38
High-speed train from Ankara to Konya (1.5 hours at 300 kms per hour): $17 – $23
Istanbul to Izmir by fast ferry & train combo: $39
Internal flights: $75 – $200 one-way

Admission and Activity Charges

Top-tier sites in Istanbul: $15
Second level sites: $9
Bosphorus tour by boat: $15
Small museums: $3 – $5
Mosques: free
By the way, cellular charges here are a good deal. To compare to what you pay at home, for about $15 – $18 a month you can get 500 minutes, 1000 text messages, and 1GB of data.
So what's the strategy here? How can you avoid spending a fortune?
– Choose your restaurants carefully in the cities and cook sometimes if you can (produce is a bargain).
– Eat lots of nuts and fruit, which are abundant all year.
– Pick and choose which sites will get you excited and skip the others.
– Explore Istanbul by ferry as the rides are cheap, including to the Princes Islands.
– Turkey is not just Istanbul (unless you're on a cruise). Take a bus to cheaper lands.
– Figure out the public transportation routes and methods. Taxis are expensive.
– Save your hard partying for elsewhere, a country where taxes aren't 2/3 of the cost.