Buy a Beach House for Cheap in Mexico
* Sorry, but you waited too long to snag this deal. This cheap Mexican beach house is SOLD! I'll leave the post up for pricing reference though and a link to the real estate agent who sold it. They have more…
Can you round up $64.500 in ready or borrowed cash? If so you can be the owner of a furnished beach house in Mexico and can cut your monthly living expenses in half. Or just have a cheap place to be a snowbird or go on vacation.
We own this place free and clear, so it's not like there's a mortgage gnawing at us, but we bought another house in Guanajuato, in the central highlands. We're moving into that one come August for two years. We'd like to have the cash from house 1 to get debt free and flush so we've got plenty to put into beautifying house 2.
As you may have heard on the news, the housing market in the U.S. is in recovery mode now, to the point where there are bidding wars again in some cities because of a lack of inventory. While some savvy investors no doubt bought houses for $67,500 or even less the past few years because of bank foreclosures, they weren't getting property one house back from a beach and those homes weren't usually nice enough to be move-in ready. This one is both.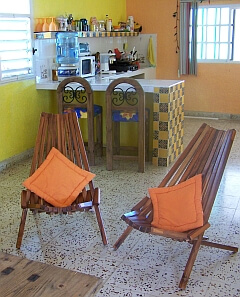 You can follow the link at the bottom for more details, but this is a well-maintained 2BR, 1 bath house with a nice covered outside terrace and plenty of room to build up or put in a pool. It's a 30-second walk to the water and three blocks to the town square. There are already local caretakers in place we've worked with for years. It comes with beds that sleep four and all the other furniture there now, plus a fridge, dishes, and a bottle of 100% agave tequila we'll supply upon closing.
This beach house is 40 minutes from the international airport in Merida, a city of a million, or less than four hours by rental car from Cancun.
If you're wondering about home prices in Mexico in other non-tourist places, we paid a shade less than $90,000 for the Guanajuato house. It has four bedrooms, two baths, with a big sun room on the top floor that has terrific views. But right now it's got a kitchen that we hate and no furniture…
So buy this bargain Yucatan beach house for $68,500 bringing just a toothbrush and a bathing suit. Then come stay with us later in the revamped city one. Go directly to Mexico International in the Yucatan for more pics and details on homes for sale in the area.