By its very nature, family travel is more expensive than a single person or a couple hitting the road. This is especially true if you need to fly, which you pretty much always need to do if you're leaving your own continent.
It doesn't have to be as expensive as many parents believe, however. You don't need a $25,000 tour and you also don't need seven nights in an expensive resort. If you visit The World's Cheapest Destinations and take your time, in the end you can spend far less than you would have driving to Disney World for a week.
Family travel requires more work, however, and you can do a lot better with proper planning than you would just winging it. So if you're a new parent or one that would like to travel more, spending a little time and money on the right book can save you plenty of cash—and hassles.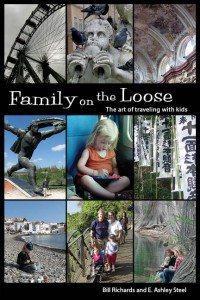 I've been checking out a new book called Family on the Loose that does a good job of answering any questions you might have and answering a whole lot of others you should have had. It's a thorough, well-organized book that leaves no travel stone unturned.
It's by Bill Richards and E. Ashley Steele, two blogging parents with two daughters they've taken with them to 13 countries away from home. Obviously they hadn't read The World's Cheapest Destinations before embarking on these journeys since all of them were in Canada or Europe, so if there's anything lacking in this book it's advice on traveling in countries less developed than our own. With all the less savory aspects that go with it.
Most tactics for family travel are similar no matter where you're going, however, so as a primer on how to do it right, Family on the Loose is a great resource. It is organized in three sections: Ready, Set… (planning); Go (flights and on the ground); and Traveling Home (preserving memories, international exploration at home). Packed in there are very useful chapters, text boxes, and checklists for what to remember or at least consider.
I especially like their advice on getting the kids involved at any age and there's a cool packing checklist that uses pictures—so non-readers can still grab what they need from their dresser. There are table games to play at a restaurant while waiting for food to arrive, city scavenger hunt forms, museum activities, and other nice additions besides just advice on how to book a hotel and get around town.
Family on the Loose lists for $13.95 paperback and is under $10 for the Kindle. Get a copy here.
While I'm on the subject, Dale and Michelle Bartlett handed me a copy of Have Kids—Will Travel when I was speaking at the last TBEX bloggers convention. It took me a while to get to it and this family travel post was my incentive.
As with the authors of the first book, this family also spent most of their travel time in Europe, so it's focused on metros, trains, and budget airlines that are so prevalent there. It's pretty hard to go wrong with a book like this though as even an experienced traveler like me will find tips and websites that were unknown before. I found myself dog-earning pages to go back to later when I was online.
This was a family of six people on the road, so if yours is too large to cram into a typical hotel room, this book will get you thinking about other options like home exchanges, park cabins, and using loyalty points for connecting rooms. With that many people to transport, this family has learned a thing or two about cheap flights and making the most of frequent flier miles as well.
You can see more at their site Havekids-Willtravel.com or get a copy of the book at Amazon.
If you do want to venture out with your family into the developing world, where things are cheaper but sometimes more difficult, my go-to recommendation has long been the Rough Guide book on Traveling with Babies and Young Children, but it seems to be out of print now. Next best is Lonely Planet's version, but they devote as much of the book to destinations as planning and travel. Your best bet is probably to pull up the website for your local library and see if they have one or both of them. If you love one after checking it out, buy it.