Is Costa Rica Worth the Splurge?
Costa Rica is just a little dot on the map in Central America, smaller than many U.S. states, but it's one of the most popular international destinations for Americans, getting nearly a million and a half of them each year. If you're a budget traveler though, that's not a good thing: this is easily the most expensive country in Central America.
The good news is that prices and exchange rates always stay roughly the same. The bad news is, are always about 1/3 higher than those in Panama and about double those in Nicaragua and Guatemala. The roads have improved considerably in some areas, there are more internal flight options (I've been zipping around on carbon-neutral Nature Air), and there are now more international flights into Liberia in the north—at more convenient times of the day as well.
To answer the question in that headline, if you've got enough money, Costa Rica can definitely be a fantastic experience. The concentration of wildlife is simply staggering (see my last post for a few days of photos). The jungle here is really jungle. Nearly everyone working in tourism speaks English. The service in the best Costa Rica hotels is friendly and accommodating. This is by far the cleanest and most eco-friendly country in the region. Universal health care, universal primary education, high literacy, no army, a female president, real democracy—this is no sad and corrupt dictatorship.
At the backpacker level, it can be quite tough though. It's hard to get a decent hotel for under $30 outside of the rainiest part of the year and the further you get off the standard tourist route, the tougher it gets. Getting off that main tourist route is not all that easy either without flying. The local bus system is lousy, so most travelers get from place to place by private shuttle van or prop plane. That can get expensive fast. If I were on a strict budget here, I'd be grumpy. For all these reasons, it's actually cheaper to go on a group tour with someone like Adventure Life or GAP Adventures than to go independently.
As with other worthwhile but not cheap places (like most of Europe), in my opinion it's better to come here when your budget is $100 or $200 a day (or higher) instead of $25 to $50 a day. If you live here instead, renting out an apartment and eating where the locals eat, things get far cheaper of course—this is still a developing country after all.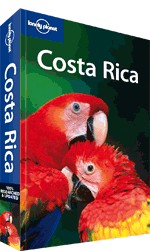 Be advised that there are really only five months when you can count on good weather outside of the dry Guanacaste region: mid-December through mid-May. After that, you'd better pack a deck of cards and a few good books (or a loaded Kindle) because you'll be spending a lot of time indoors waiting for the rain to stop.
As for guidance, the Moon Handbook for the country is quite good and that's what I was carrying my first time in the country. The author, Christopher Baker, knows the country inside out.
But this time I took the newly revised Lonely Planet guide for Costa Rica. I found it to be solid and reliable, answering all my questions, providing good background, and having the usual useful maps. Naturally if you use if for accommodation and restaurant recommendations you'll be joining the hordes all staying and eating at the same places though, so put in down sometimes and just wander. But in a country with this much to know, do, and see, traveling without a guidebook means you're only scratching the surface unless you have a really great guide.
Related story: Fear on the Menu in Costa Rica