Today I depart for a a few days of biking inn-to-inn on the Katy Trail in Missouri. This is something I've wanted to do for ages, so I'm far more excited than I usually get about a domestic writing trip. The hard part is, I have to carry all my things with me as I'm going independently, not on some tour where the luggage gets transferred (like I did when biking in the Czech Republic). On Day 4 I take an Amtrak train back to St. Louis.
My plan was to first do a short overnight round trip of 20-something miles on the Sam Vadalabene bike trail between Alton and Grafton, Illinois, along the Mississippi River. The weather didn't cooperate though so I visited wineries in Grafton and drank instead, staring out the windows while the rain came down and the river kept rising. So no trial run, unfortunately. Today I'm setting off on the bike for three nights/four days, with everything I need in a Kelty Redwing 3100 pack. It holds 51 liters, but I definitely won't be stuffing it to capacity—it'll be on my back for 30-35 miles a day, so I don't want it to be heavy.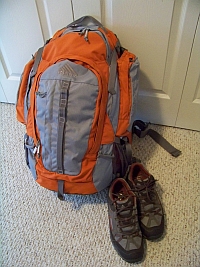 Thankfully my experience reviewing gear for the Practical Travel Gear blog has schooled me in what works well for packing light and packing smart. Up top is a photo of what's coming along, laid out on the floor and then stuffed inside. Even though there's an extra pair of shoes and my HP 13-inch laptop in there—two things I'd rather not take but have to because I'm working—the whole shebang pictured at the left weighed in at 22 pounds. That's including two hats, a pair of gloves, a Swiss Army knife and an iPod. So I can live with that.
What helps keep the weight down? Mainly some tried and true pack light strategies: lightweight clothes that all go together, travel size cosmetics, and a minimum of shoes.
There are lots of newfangled wonder fabrics in the mix here. They insulate and block water but breathe, are light but rugged, and are wrinkle-free. Probably 2/3 of the bulk is made up of clothing from ExOfficio and Columbia. This stuff isn't cheap, but it doesn't act cheap either. These are shirts and pants you can wear a hundred times, abuse to death, stuff any which way in your pack, and wash in the sink. They still come out looking like new.
Here are some other notable items coming along.
A shirt with reflective patches in case it starts getting dark before I'm where I need to be on the trail.
Waterproof rain pants I bought in Cusco and my trusty waterproof North Face Mountain Light jacket with Gore-tex.
Waterproof Gore-tex Vasque shoes.
Hoss biking shorts that don't look like gay Spandex biking shorts. (Update, this company is out of business, but others have jumped on the trend, thankfully.)
Performance socks from the likes of Swiftwick and Lorpen that I can wash in a sink and know they'll dry fast.
What items have you found to be a huge help when you're trying to pack super-light and still have what you need?