Getting New Pages in Your Passport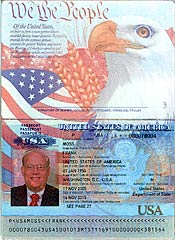 Are you running out of pages in your passport because you have too many stamps? It's a good problem to have, obviously, but with a 10-year expiration on passports, it's not all that hard to get to that point well before you need a new one, especially if you are on a round-the-world journey. Sure, in Europe you don't get many stamps anymore, but in the rest of the world they're as stamp-happy as ever and if you need to get a visa somewhere it will often take up a whole page.
You don't have to mail your still-valid passport in though to get more blank pages added. Just wait until you are going to be in a major city and visit your embassy. I have done this twice now, in Bangkok and Mexico City, and it only killed a couple hours of my time. If you are going to the U.S. or British embassy it will involve a lot of pocket emptying, metal detectors, and pat-downs, but after you get inside it's pretty painless.
Just bring something to read as you will probably be there an hour or two. Be sure to consult a calendar before you go too. I had to go twice on my last attempt as the first time I showed up it was a government holiday at home and the embassy was closed. But now I'm set until 2012!
Good thing too, as this new U.S. passport version is so laughably unattractive it makes me cringe. Every inside page is covered with over-the-top patriotic symbols that seem to be pulled right off the set of The Colbert Report. (But without any sign of a wink.) The photo above accompanies a piece that ran on public radio's Marketplace show, a commentary from a Travel + Leisure editor who sent her passport in to get more pages and got stuck with the civics lesson ones like the above. As Gizmodo said when it came out, this passport design is patriotic, high-tech, and ugly. A good reason to pick up one of those nice leather passport covers…