It's time for the year-end issue of Perceptive Travel online magazine, home to great travel stories from book authors on the move. We've got some demon dancing, some extreeeeme adventures (say it like an ad announcer for full effect), and some village touring in the land of scowls. Plus some good and bad new travel books as well as some old and new world music.
Marco Ferrarese finds himself in the middle of a bizarre street festival while visiting the town of Berestagi in Sumatra, Indonesia. He's warned not to look anyone in the eyes and is transfixed by demonic creatures putting people in a spell. See Street Walking Demons in Sumatra.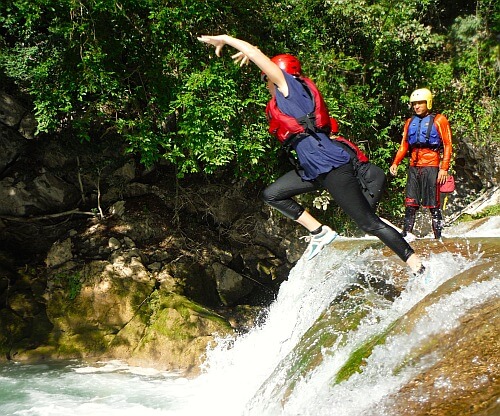 I wrote before on this blog and posted some pics from a crazy adventure travel trip I went on during the summer in the seldom-visited state of San Luis Potosi, Mexico. That was a dashed-off blog post, but now you can read a more literate narrative with some different photos. Check out Taking Adventure to the Next Level in Hidden Huasteca, Mexico.
James Dorsey often writes on Perceptive Travel about interesting tribes and expressions of spirituality, but he finds little of either in modern-day Russia, where even a celebration day is dour and devoid of life. See A Grim Commemoration Day in Modern Russia.
Susan Griffith takes on the book reviews again this month, with one she wished she'd never read and one most parents of gap year kids should probably avoid. See the December travel book reviews.
Laurence Mitchell spins a batch of world music albums, from a dub Christmas to a classic Cuban collection to a mash-up of India and the Sahara. See the December world music reviews.
As always, we're giving away something cool to one of our regular readers and this month it's something I've used and preached about a lot: the SteriPEN Freedom water purifier. I've kept hundreds of water bottles out of the ground and streams by using this in countries where you can't drink the water and this one is both small and USB rechargeable. Sign up for the monthly newsletter to always be sure you get the announcement. Or act like your in Vegas and follow us on the Facebook ad generation platform. You may see our newsfeed one day after that if you get lucky and can enter.